Featured Article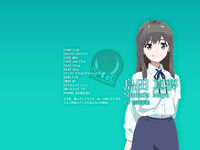 Mayu is a high school freshman who used to be center in the famous idol group I-1 Club. She was one of the earliest members of the group, auditioning at age 12. Her popularity as the I-1 Club's center helped the group became more well known, but tensions between her and the group's manager and president Tōru Shiraki, when Mayu protested about the firing of her friend from I-1, led to her being fired after her next single did not beat that of rival center Iwasaki Shiho in sales records
read more...
Featured Video
Poll
Who is your favorite Wake Up, Girls! member
Ad blocker interference detected!
Wikia is a free-to-use site that makes money from advertising. We have a modified experience for viewers using ad blockers

Wikia is not accessible if you've made further modifications. Remove the custom ad blocker rule(s) and the page will load as expected.