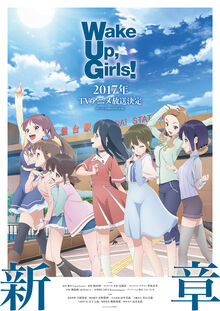 Wake Up, Girls! Shin Shou (Wake Up, Girls! New Chapter) is the second anime season of the Wake Up, Girls! franchise and follows after Wake Up, Girls! Beyond the Bottom. The series will have a new staff and character designs. It is set to premiere October 9, 2017.
"Wake Up, Girls!" is the story of growth and friendship of seven girls living in Sendai, Miyagi who form the idol group "Wake Up, Girls! (WUG)" and work together to become top idols.
Operating under a small production company in Sendai known as "Green Leaves Entertainment," WUG overcame countless obstacles to beat national idol group "I-1 club" at the Idol Festival and win the event. They had suddenly become top idols... but with an idol recession going on, things weren't so easy. The days of steady and honest idol work continued for the girls.
Meanwhile, Sendai-based middle school trio Hayashi Ayumi, Morishima Otome, and Atsugi Itsuka have developed an increasing desire to become idols...
Episodes
Edit
To Be Announced
TBA
TBA
TBA
TBA
TBA
TBA
TBA
TBA
Cast & Characters
Edit
Wake Up, Girls!
Edit
I-1 Club
Edit
Run Girls, Run!
Edit
Episode 1:
Edit
Episode 2:
Edit
Studio: Millepensee
Director: Shin Itagaki
Character Designer: Miyuki Sugawara
Original Character Designer: Sunao Chikaoka
Music: Satoru Kosaki
Ad blocker interference detected!
Wikia is a free-to-use site that makes money from advertising. We have a modified experience for viewers using ad blockers

Wikia is not accessible if you've made further modifications. Remove the custom ad blocker rule(s) and the page will load as expected.